The culinary world was left in shock after famous chef, Anthony Bourdain's body was tragically found in a hotel room in June 2018. It was established that the 61-year-old celebrity chef committed suicide. On the other hand, his estranged second wife, Ottavia Busia dug herself a hole after his death and has lived a subdued life. Anthony was dating Asia Argento at the time of his death.
While fans were offered a sneak peek into his adventurous life in the 2021 documentary, "Roadrunner: A Film About Anthony Bourdain, not many know about his estranged wife, Ottavia Busia, who shared a common interest with the deceased chef. To start with, both met while pursuing their career in the culinary world. Read on to learn more about Ottavia and her whereabouts.
When did Ottavia & Anthony Met?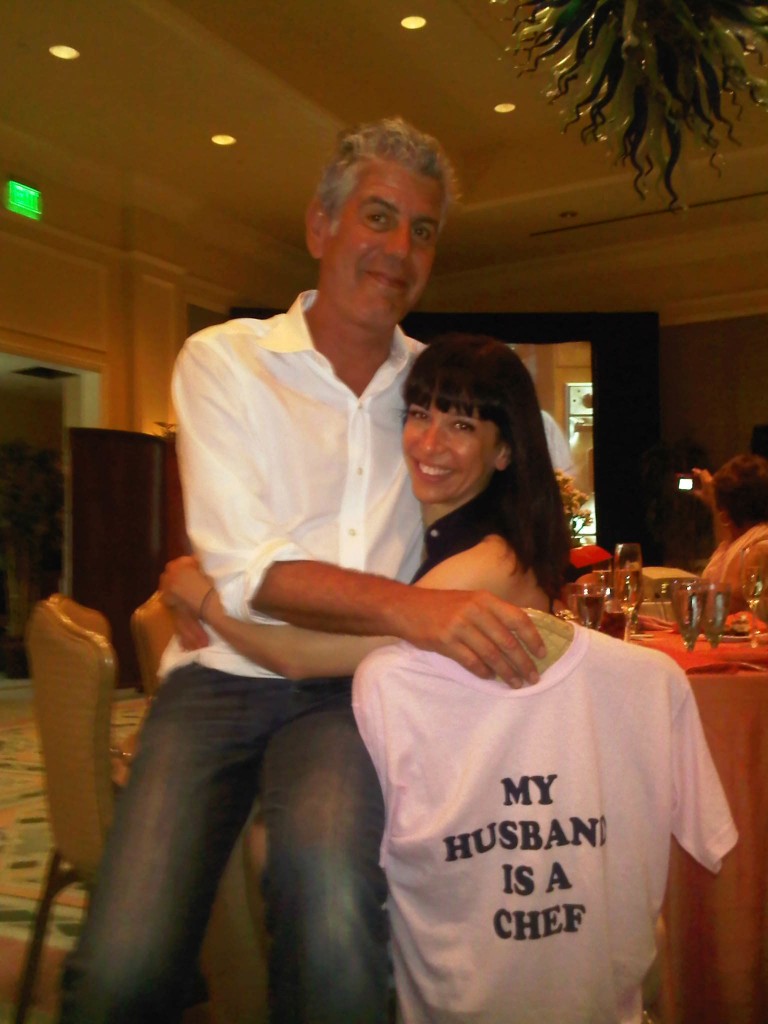 Bron in Sardinia, Italy, Ottavia Busia had a simple and comfortable Italian life until her love for an Irish musician took her to the United States. Before meeting Anthony Bourdain, Ottavia stayed with the musician in 2000. She started her American journey with just $300 in her pocket but even though her romance was short-lived, she was determined to work and held down gigs at many restaurants like Café des Artistes, Sette MoMa, and Le Bernardin before finding a job at Geisha (a Japanese eatery).
Gisha's consulting chef Eric Ripert played the role of cupid and introduced her to Anthony Bourdain. The celebrity chef was previously married to his high school lover, Nancy Putkoski, but drifted apart after two decades as he became popular in the food industry. What sounded appealing and adventurous to Bourdain, felt like cancer to Nancy.
Anthony once spoke in an interview: "I felt like the whole world was opening up to me. I'd seen things. I'd smelled things. I desperately wanted more. And she saw the whole thing as cancer. But hey, that wasn't the case with Ottavia, who shared fond love for dishes and traveling.
Eric, for instance, had predicted that the two would end up together. The couple soon started dating and had playful initial years. Busia understood him and the fact that the culinary world was both, intense and competitive. Well, the lady was the general manager at a renowned NYC Japanese eatery, Geisha. It was the love for food, drinking, and talking, that brought them together in the initial months of dating.
Lovers Who Shared Common Interests
After dating for less than a year, the lovers tied the knot in 2007. Soon, the two welcomed an adorable daughter, Ariane. Ottavia and Anthony's love was so intense that the two even got matching tattoos, dedicated to each other. The two never took each other seriously, and that's what kept their love fresh. Busia once revealed in an interview, "We make fun of each other a lot. I say what I want. People either like it or not, but I don't care.
A few years ago, I came across an article about two food lovers. In 2012, the couple created a stir when Anthony had a bad experience with steak in Las Vegas. In an interview, she revealed that the steak in question was the "worst steak" ever. She said, "It looks boiled. I cut into it and it's hard, and grey inside; it's well done."
Chef Charlie Palmer, who was responsible for the "horrific experience", later issued an apology and said, "It is always a downer to hear something like this, particularly when it concerns the wife of a colleague." He mentioned that he wished that the dish was sent back to rectify the error. Bourdain later thanked him and called him "a gracious man and a great chef." Well, the two knew their food well.
But again, their shared passion wasn't just restricted to food. If you don't know this, the couple developed a love for martial arts. Ottavia, for instance, got too serious about sports and studied at the Renzo Gracie Academy, later competing in several jiu-jitsu competitions. She revealed in an interview that sports transformed her as a person: she quit smoking, barely drank, and started embracing a healthier life.
Well, her passion was contagious and Anthony ended up training too. It was reported that the Anthony Bourdain: Parts Unknown host remained passionate about the sport even after the couple parted ways. As for Ottavia, the jiu-jitsu expert was inspired by popular MMA expert, Gina Carano and continues to remain 'hooked" to the sport.
Why Did Anthony And Ottavia Separate?
When you read about Ottavia-Anthony's love story, it makes you feel that it was a match made in heaven. Ottavia had a pretty positive influence on Anthony's life. The love was more than perfect and the couple couldn't have enough of each other. But then, people often wonder what led to their separation. Even though Bourdain and Ottavia never divorced, the two parted ways.
People often wonder why this perfect couple decided to part ways. For Anthony, traveling for 250 days in a year did take a toll on their relationship. Yea, the chef's incredibly busy work schedule got in the way and they eventually decided to separate after nine years of marriage.
Busia once revealed in an interview that Anthony always wanted an idyllic family. "It always seemed like what he wanted was this idyllic picture of family and ordinary life but then when he got it, I don't know if he was … I don't know. After a while maybe that wasn't enough anymore," she added.
Life After Anthony's Death
In 2017, Anthony began dating Italian actress Asia Argento. Busia, on the other hand, noticed that he changed over the years and it was simply not what he used to be. However, she decided to take a step back, respecting his choices. During his relationship with Asia, Anthony was seeing a therapist.
After Anthony committed suicide in 2018, Ottavia completely shut herself down and chose to focus on their daughter. "I am so lucky because she is the best daughter I could hope for." It was only during the documentary, "Roadrunner" that she came forward to express her views about her late husband. In the documentary, she also recalled some of the most incredible memories with Bourdain. This was the last time, Ottavia spoke about Anthony Bourdain.
"I think this is the last time I'll ever talk publically about it because that's not the way I want to remember him," she said. "I want to remember when we were together, all the amazing things that we'd done, and the amazing person that he was."
In the documentary, "Roadrunner", Busia recalled her dynamic with Antony post-separation. "He was not the same person. Something changed and became heavy but he started going to therapy at a certain point and I thought, 'I can take a step back, I don't have to be like you know always so worried about him,' " she spoke. She also stated that she regrets the decision not to look out for him.
FYI, on June 8, 2018, Bourdain committed suicide while on location in France, filming for Parts Unknown. An unauthorized biography, "Down and Out in Paradise: The Life of Anthony Bourdain, by journalist Charles Leerhsen depicted text messages sent by Anthony in his final days.
I hate my fans, too. I hate being famous. I hate my job," Bourdain wrote to his ex-wife Ottavia Busia-Bourdain, who had become one of his close confidants, per an excerpt published by the New York Times. "I am lonely and living in constant uncertainty." It came out that he struggled with fame, heartbreak, and major issues with Asia.
Where Is Ottavia Busia Now?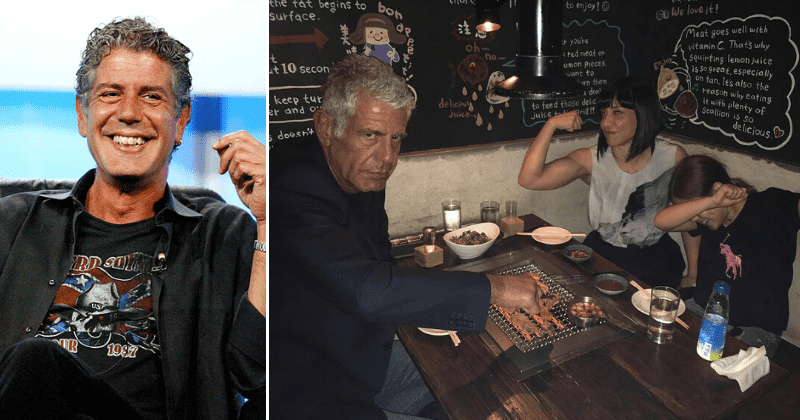 After separating from Ottavia, Anthony completely vanished from his daughter Ariane's life while he was trying to please his new girlfriend, Asia. However, none of that was worth it. However, in his will, Anthony left most of his estate in his daughter's name. As Ottavia was not divorced from Anthony, she was responsible for filing his will.
She was only 11 years old at the time of Bourdain's death so his mother, Ottavia serves as the executor of the estate. Per legal documents, Bourdain's $1.2 million in assets comprised "$425,000 in savings and cash, $35,000 in brokerage accounts, $250,000 in personal property and $500,000 in intangibles such as royalties and residuals from his TV work and books like his breakthrough 2000 memoir "Kitchen Confidential."
Apart from this, he also established a trust, but because they're not public records, the contents of the said trust remain private. Ariane, the primary beneficiary of the trust, would receive money from the trust at 25, 30, and the entirety of the trust at age 35.
Since Anthony Bourdain's death, Ottavia Busia has remained low-key and takes pride in taking care of her daughter, Ariane Bourdain. Ottavia's whereabouts are not known, but it appears that she shifted to Italy after Anthony's death. The mother-daughter duo prefers to live a quiet life away from the spotlight.
Note: If you or someone you know is struggling with mental health, please contact the Crisis Text Line by texting HOME to 741741, call the National Alliance on Mental Illness helpline at 1-800-950-NAMI (6264), or visit the National Institute of Mental Health website.