January 18, 2012 | Economic Opportunity
Doing Business Across Borders
Three Women Making Global Trade a Force for Good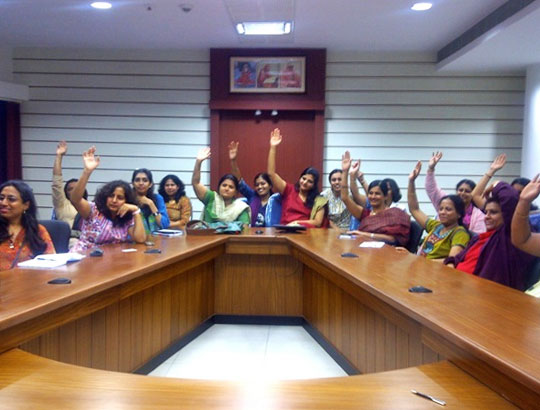 By Anna Louie Sussman
NEW YORK CITY -- Whether or not one agrees with the columnist and globalization theorist Thomas Friedman that "the world is flat," international trade has plainly come a long way since merchants plodded the Silk Road bartering textiles, spices and precious metals.
In 2010, international trade in merchandise and services was approximately $18.5 trillion, according to figures from the World Trade Organization. As the volume and scale of trade have grown, entrepreneurs like Elizabeth Vazquez are working hard to make sure that women are not left out.
In 2009, she founded WEConnect International, a non-profit organization that helps women business owners succeed in the global marketplace. WEConnect International certifies businesses as women-owned if they are at least 51% owned, managed and controlled by one or more women, and offers them a range of networking opportunities, trainings and expertise to make sure their businesses are competitive and scalable.
Ms. Vazquez stresses that this is no affirmative action program: businesses will not win contracts with the likes of AT&T or Intel simply by being women-owned. But by partnering with USAID, the International Trade Centre (a UN/WTO agency), and other local capacity-building organizations, WEConnect ensures that these businesses are ready to compete on their own merits.
"We're introducing them to all kinds of different standards in the world, not just industry standards such as ISO (the International Organization for Standardization), but also asking 'How do you treat your employees?' Is there a more sustainable supply chain or way of doing business?'" she said.
Furthermore, she says, including women reaps its own financial rewards. Executives tell her that sourcing from women-owned businesses has made them eligible for contracts and deals that stipulated supply-chain diversity.
In addition to competing for contracts with WEConnect's multinational corporate members who are committed to diversifying their supply chain (including other heavy hitters such as Boeing, Pfizer, IBM and Walmart), she encourages women business owners also buy from one another. In total, the WEConnect network represents over $700 billion in purchasing power.
"Women themselves may not be aware of opportunities to be inclusive in their sourcing, but they do have their own purchasing power, and they have to be very thoughtful about their impact on the world," said Ms. Vazquez. "How do they use their money to hopefully provide opportunities for other women, or other diverse vendors that may not have historically had the opportunity to compete?"
Globally, women now earn at least $12 trillion annually, a number expected to rise to $18 trillion by 2014, according to the Boston Consulting Group. American women spent around $108 billion last year on apparel, according to NPD Group, and the United States imported over $100 billion's worth of apparel from overseas, around 40% of it from China alone.
Social entrepreneur Kavita Parmar hopes to leverage technology to make garment manufacturing and clothes shopping opportunities for connection, rather than exploitation. A longtime fashion designer who worked for major fashion houses like DKNY, Ms. Parmar became disillusioned by the "race to the bottom" attitude that characterized production in the apparel industry. She launched the IOU Project in May of last year to counter the "faster and cheaper" trend that dismayed her – and to counter trends in fashion more broadly.
The line of dresses, pants, shirts and jackets uses colorful madras checkered print cloths made by a community of weavers in Tamil Nadu, India, which are then shipped to a factory in Italy. Parmar, who is of Indian descent, knew that most of the so-called "madras" fabric used in the industry comes from China, Bangladesh and Sri Lanka, leaving the original community of 20,000 weavers struggling to compete. She currently employs around 250 of them, and pays them 50% more than the market rate for the one-of-a-kind lengths of fabric that they weave by hand. The cloths are then sent to a factory in Italy, where they are turned into pants, dresses, shirts and jackets.
The clothes are sold online at IOUProject.com, and through virtual "trunk shows" that anyone can host. Each item has a traceable "story," illustrated by extensive photographic and video documentation of the weavers and factory workers, and enabled by proprietary tracking technology that her husband, an MIT engineer, developed. When you buy a dress, a shirt, or a pair of pants, you can learn who made the cloth, who sewed it together, and even donate to that person's individual bank account, if you're so inclined. Parmar calls this relationship a "prosperity chain," and asks buyers to send photos of themselves in the clothes that the artisans can see – thus completing the chain.
After eight months in business, the line has done about $160,000 in sales so far. Ms. Parmar envisions an expanding market for this kind of "slow fashion," and she has been in discussions with major fashion houses who are interested in accessing both the technology she and her husband developed and the weaving community in India.
"Right now we're talking to a new generation, and that generation is ready for another conversation," she said. "They're into DIY, vintage; there are so many people looking for their own voice right now. There's so much noise that you have an inward journey going on."
For Farah Malik, fashion was the final destination of her own inward journey, from human rights educator to the co-founder and co-designer of A Peace Treaty, a line of luxury scarves and jewelry made by artisans in post-conflict situations. She and her best friend and co-founder Dana Arbib track down endangered artisan communities and employ a high-end version of fair trade to preserve their craft traditions -- embroidery, weaving, knitting and metalwork – that modern manufacturing threatens to displace. The artisans set their own price (typically around $90-$150 per item), which the company covers by selling to the luxury market.
On an exploratory trip in 2008 to Pakistan, where Ms. Malik's family is from, she found families of weavers who had abandoned their wooden handlooms in favor of electric weaving machines. Across the country, thousands of families had taken out loans to purchase these machines, only to encounter 16-hour-a-day electricity shortages, rendering them unable to work. She traveled from market to market and town to town to locate families who were up for going back to the old way of weaving tribal patterns, which she updated in a modern palette. The first batch of 250 sold out online within a week.
Since then, A Peace Treaty has expanded operations to India, Nepal, Turkey, Bolivia, Peru and Uruguay, and now works with around 100 artisans in all. Some undertakings, like working with Afghan Hands, a women's embroidery cooperative in Kabul, proved too difficult and costly. Others got off to a rocky start, like when a first shipment from India arrived and 30% of the scarves had tea stains on them.
"They're doing this work at home, and they've got their food next to them while they work, and they're breastfeeding, and they're drinking their chai," Ms. Malik said.
But over the past three years, she has seen the families she started out with send their children to better schools, build new additions to their houses, and engage younger generations in the crafts they once snubbed.
The scarves and jewelry are now in over 200 stores around the world, and A Peace Treaty has been written up in all the major fashion magazines, but Ms. Malik is convinced there's much, much more to be done. She'd like to see "slow fashion" reach the status of Slow Food, the widely known movement with its own international organization and dozens of national chapters.
"In the food industry, the consumer knowledge is a lot more developed. There's been a lot more conversation about farm-to-table, local, sustainable," she said. "In fashion, the discussion has just been about 'eco-fashion,' and that just means organic cotton. The discussion ends there."
"We have a huge, huge job ahead of us," said Ms. Vazquez. "The world has not thought in terms of 'Hmm, how am I spending my money, and is any of it on women?' Every one of us has the opportunity to think about how we buy."
Anna Louie Sussman is a writer and editor for the Women in the World Foundation website, and a frequent contributor to major U.S. magazines and newspapers.