July 22, 2013 | Education, Health and Well-Being
Having a Ball: Mary McVeigh's Tips on Soccer and Life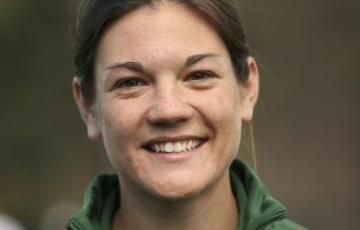 Mary McVeigh plays for keeps—on and off the field. The former collegiate soccer star—she led her Dartmouth team to two Sweet Sixteens—co-founded Soccer Without Borders in 2006 to provide free soccer lessons and summer camps to at-risk and impoverished girls. In addition to reaching hundreds of young women in the U.S., SWB operates in countries like Uganda, Egypt, and Nicaragua. Here, McVeigh shares four lessons in real team spirit.
The magic word is "respect."
We work in culturally and economically disparate countries, so there are very practical obstacles: language barriers, lack of resources and infrastructure, distance. The success of the program relies, however, on mutual understanding and respect. And those have to be earned.
Sometimes tragedy means opportunity.
During my sophomore year at Dartmouth, I broke my foot. I felt at the time like one of my four precious college seasons was wasted. It turned out to be one of the most valuable. As I watched my teammates win the Ivy League and advance to the Sweet 16 of the NCAA, I found new ways to contribute to their success from the sidelines. At the end of the season, my teammates voted to give me an award for the member who rises to the challenge in the face of adversity. That was the biggest honor I've ever received.
It takes all kinds.
The successes of Soccer Without Borders can all be traced back to the willingness of people from very different backgrounds and experiences to bring their talents, imaginations, hopes, and energy to the table to create something new: a space for girls where before there was none.
We are all more connected than we realize.
There is so much that people everywhere, particularly children, have in common. Their spirit is so genuine, so inspiring, and so universal that it consistently reminds me of our shared humanity, rather than that which separates us.