March 18, 2013 | Law and Justice, Violence Against Women
The Women-Behind-Bars Paradox: Double Trouble
Victims of violence are more likely to be imprisoned.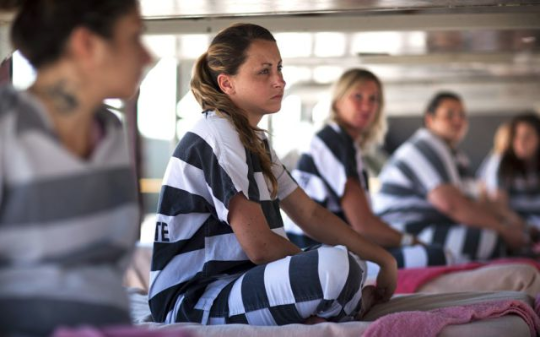 Here's the bad: A woman is abused and repeatedly threatened with a gun by her boyfriend. Woman grabs gun from boyfriend and shoots him—and ends up sentenced to a dozen years in prison, simply for defending herself.
And here's the worse: When she gets to prison, that woman will face additional sexual and physical violence, as well as neglect of her most basic personal needs.
That double-whammy affects women all over the world. And it's so troubling that a panel of experts debated the problem during a panel convened by the U.N.'s Special Rapporteur on Violence Against Women, Rashida Manjoo. The discussion was among many events surrounding the annual gathering of the United Nations Commission on the Status of Women in mid-March.
"Seventy, 80, sometimes 90 percent of women in prison are survivors of sexual or physical violence," said Elizabeth Brundige, executive director of the Avon Global Center for Women and Justice and International Human Rights Clinic at Cornell Law School, citing the clinic's research. "Once in custody, women are subject to a host of discriminatory and violent actions and situations that fail to respect and acknowledge their needs as women."
It starts with the law. Around the world, women live under different regulations than men do. In some countries they can be imprisoned for "violation of morals," such as adultery, leaving home without permission, or having an abortion—even if the pregnancy was the result of rape.
In prison, women must deal with sexual assault by male prisoners and guards. Guards perform unnecessary body searches, undressing and groping women with impunity. As for their physical needs, women are often denied hygiene products, such as sanitary napkins, and pregnant prisoners are commonly shackled to their bed during childbirth.
How to change this appalling situation? One step, said panelists, would be for countries to adopt the U.N.'s "Bangkok Rules"— the only international, non-compulsory rules that address the needs of women in custody.
Panelist Luiz Fernandez Valoni, counselor of Argentina's mission to the U.N., said his country has replaced physical searches of women with electronic searches; provides a separate facility for transsexual and lesbian prisoners—who are often targets of abuse behind bars; and has created a Gender Office that focuses on preventing violence against women.
Other solutions mentioned by the panel included assigning only female prison guards to women's units; offering pre- and post-natal care to pregnant prisoners; and creating social programs for female prisoners with young children. And to keep women out of prison in the first place, panelists suggested that governments provide stronger support for women victims of domestic violence.