June 25, 2013 | Law and Justice, Politics and Leadership, Violence Against Women
Turkey in Turmoil: It's a Women's Thing
Two young women on the frontlines tell why they must win.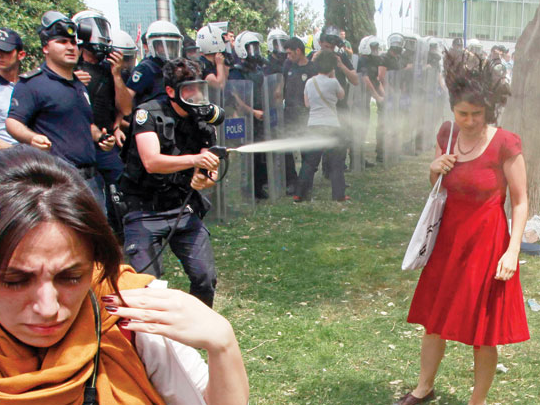 By Charlotte Murtishaw
The photo of a woman in a red dress—her dark hair aswirl as police blast her full in the face with pepper spray—has become an international symbol of Turkey's recent protests. And with good reason: The month-long demonstrations are in many ways a women's phenomenon, a movement in which women have the most at stake—and are willing to stand up to the government to make themselves heard.
Fifty-one percent of the protestors in Istanbul's Taksim Square are women, according to a survey by Turkey's Konda Research Company. By comparison, in Cairo's Tahrir Square in 2011, women made up only 10 to 15 percent of the demonstrators. Given its welcome of women, the absence of sexual violence, and the inclusiveness of its demands, Taksim is definitely not Tahrir.
"This was never a man-led protest," says Sezen Yalçin, one of two women who gave us a look at Taksim through the eyes of its young, female demonstrators. "Women were there from the very beginning." Yalçin, who works for a Turkish LGBT nonprofit, has been at Taksim every day since protests began on May 28.
How to help women in Turkey
Women for Women's Human Rights
The Turkish Women's Initiative
She notes that the park itself is symbolic for women, as it's notorious for being unsafe at night. "For women, it is twice as important as men to get back these places," Yalçin says. "As a women, you should be able to safely walk around at night and be able to claim the park, the street, all the public spaces."
Her fellow protestor, Elif Kalan, runs nonprofit workshops for youth leaders around Turkey; usually she struggles to get girls to join the program—not surprising in a country where women hold only 14 percent of seats in parliament and where prime minister Tayyip Erdogan has restricted abortion and has suggested that in Turkey's "ideal family," women would confine themselves to being homemakers rearing an optimal three children. But over the past few weeks in Istanbul, things have begun to change.
"Within this protest, we saw that even those people who are not part of the feminist movement or who are not very vocal during the abortion debates were also raising their voice against Tayyip Erdogan," Yalçin said. "This kind of unrest from feminists is now part of the discourse of other groups as well."
DANGER IN THE PARK
"No one expected things to get this big," Yalçin says of the protests that started over the administration's plan to construct government buildings in Gezi, a small park only 9 acres in size (New York City's Washington Square is 9.75 acres) and one of the last green spaces in the metropolis.
Although the demonstrators have sworn off violence—Kalan credits the strong presence of women for helping keep that pledge—both she and Yalcin have been in danger. In the midst of a police assault on a peaceful demonstration, Yalçin got hit with a gas canister. "It wasn't a big deal," she says, adding that people have adapted quickly to the protest environment. "Now everybody is aware of what to do when you are gassed, everybody knows how to prepare these solutions which are helpful for you to breathe and open your eyes and stuff."
So far, five people have died and thousands have been injured or are being held in police custody. A friend of Kalan's was hit in the head and lay unconscious in the hospital for weeks; now, she's opened her eyes, but her family's still waiting to learn if she suffered brain damage.
Although the protests aren't specifically about their groups' rights, women and LGBTs have been pushed to the forefront by virtue of being so numerous and so visible. And they've seized the moment to establish themselves as political change agents. By standing up and out, women and gays "show it's not only their heterosexual, male privilege to reclaim something from the government, to fight for their rights," Yalçin says.
Certainly both groups have a lot to fight for. Erdogan has been criticized for pushing a conservative Islamist agenda, restricting the rights of an already socially repressed yet largely secular female population. And in May a bill calling for the government to study the needs of LGBTs drew dismissive and homophobic remarks from the ruling AKP party in Parliament. Yalçin's LGBT group has employed the demonstrations as a teaching moment. Early in the protests, she and her group walked around the park, encouraging their fellow protestors to stop using misogynistic, homophobic slang. It worked; all slogans were scrubbed of offensive content.
THIS IS FOR EVERYONE
One thing that sets the Taksim protests apart from others in the Middle East is its diversity. "In the park, you can see the whole Turkey," Kalan says. "You can see the socialists, you can see the conservatives, you can see the very religious people, and young people who don't have any ideology." When women in headscarves were harassed because some protestors assumed they were with the conservative government, the harassers were roundly shouted down.
The broad base of the protest has produced a remarkable community. "People start to kind of talk there," Kalan says. "Two different people, with completely different ideologies." Though the outcome of the demonstrations is uncertain, both women are optimistic that they've altered the nation's consciousness, both in how it perceives civilian rights, and how it perceives women.
"I think this will start and leave area for us, for democracy, for cultural participation in Turkey, for women and young people," Kalan says.
"Once you start to be part of it, it makes you feel strong," Yalçin adds. "Your body somehow survives because it makes you feel stronger and it makes you feel as if you are doing something good for your life, for your honor, for your people. I don't think people are going to put this aside, because it really tastes great."