Have you ever seen Kylie Jenner without makeup? Would you like to? Then, continue reading further, we have brought you the 10 most stunning no-makeup looks of the beauty mogul. You can love her or hate her but you cannot ignore her. She is always in the spotlight due to various reasons like her beauty line, personal life, and more.
The former Keeping Up With The Kardashians star has done it all at the young age of 23. Kylie Jenner is a reality TV star, businesswoman, socialite, and also a mom of two. Over the last couple of years, she has built a strong fan base on social media. At the moment, she has 380 million followers on the social media platform Instagram.
The American media personality can literally make or break a brand with one single tweet. As per various media reports, she makes  $1,835,000 per post on the photo-sharing site. She has been in the limelight since she was a child thanks to her famous family's reality TV show Keeping Up With The Kardashians.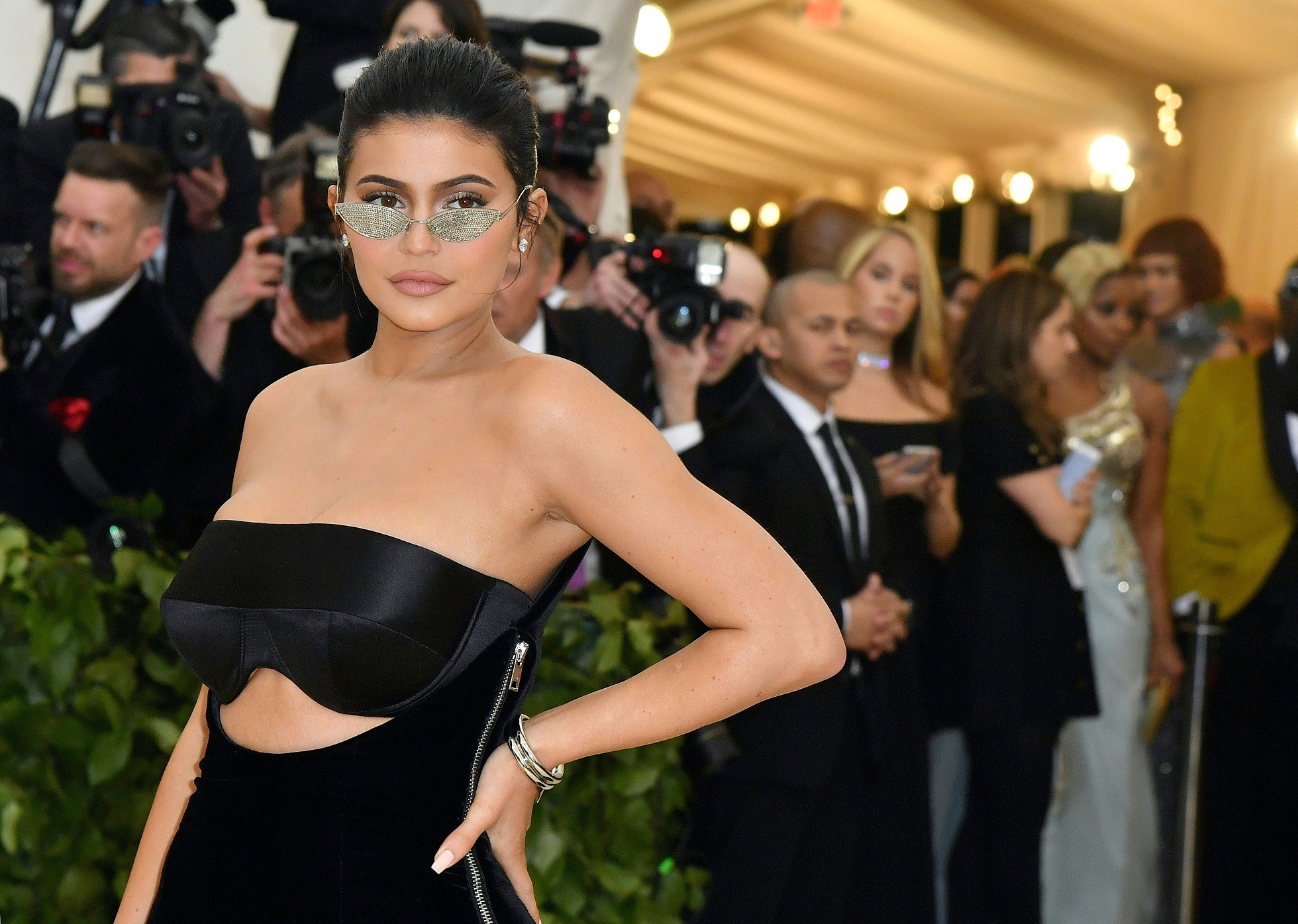 For those of you who are unaware, let us share with you, the show Keeping Up With The Kardashians premiered in the year 2007. At that time, Kylie was only 9 years old. In the year 2020, Forbes magazine named Jenner the youngest self-made billionaire. Her love for makeup helped her a lot in building her own empire. She is the founder of the cosmetics company Kylie Cosmetics. She stepped into the beauty space in full force in 2015 with the successful launch of her lip kits and since then, she has been ruling the beauty world.
In an August 2022 interview with E! News, the Life of Kylie star disclosed that launching her own products was a total no brainer, given her deep love of makeup. While having a chat with E! News' Francesca Amiker at the Ulta Beauty x Kylie Cosmetics Event for the launch of the Plumping Gloss, Jenner said, "I think it was the core of my obsession with makeup. That's what made me love makeup so much, the self-expression behind it and the creativity."
During the Keeping Up With The Kardashians reunion in 2015, the reality TV star talked about her obsession with makeup. Then, she said, "I had an insecurity because this guy said something to me one time. Then I got an obsession with makeup because I would over-line my lips and it just made me feel confident." In this article, we have covered the 10 most stunning no makeup photos of Kylie Jenner. So what are you waiting for? Start scrolling.
Take a look at 10 no-makeup looks of Kylie Jenner
1. If looks could kill
Kylie Jenner always has her makeup game on point. It wouldn't be wrong to say that the Kylie Cosmetics founder is a trendsetter. Over the years, we have literally seen her grow up and evolve into a beautiful young woman. Back in the day, she faced a lot of backlash from people for wearing makeup at a young age.
So one day, Jenner just decided to drop a no-makeup picture of herself on social media. Then, she was 18 years old. In the selfie shared, the member of the Kardashian-Jenner clan doesn't have a little bit of makeup on her face and she still looks gorgeous. You can see the freckles on her nose in the snap. In the photo, she can be spotted lounging in bed and showing off her freckles.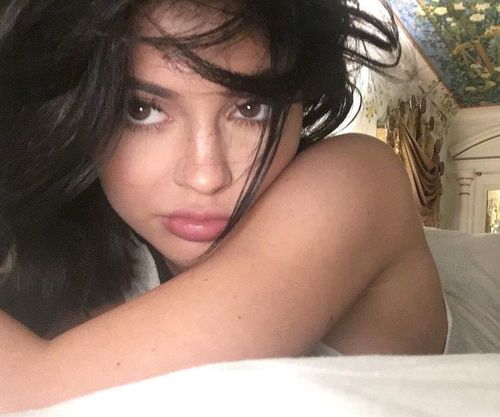 2. Stepping out in style
Kylie has a great fashion sense. Whenever the Kylie Skin founder steps out and about in public, she is dressed to the nines. The whole world is obsessed with her glam looks and the internet goes into a frenzy whenever she posts a no-makeup picture of herself. Every now and then, she is clicked by the paps without a drop of makeup on her face. She knows how to take care of her skin.
In the photo taken by the paps, Jenner can be seen wearing a black leather jacket atop a black shirt. She kept her hair in a bun. She accessorized her look with a pair of glasses, a few rings, and some earrings.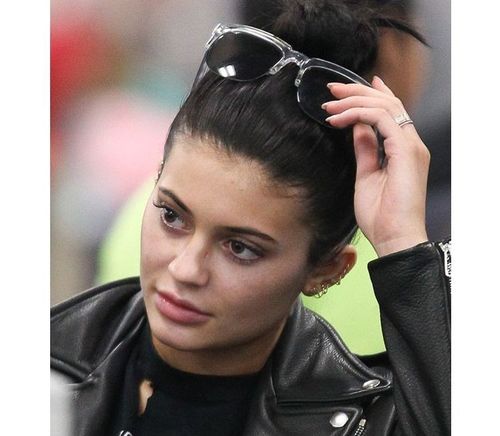 3. Chilling at home
During the initial days of her career, the style influencer wasn't very comfortable facing the camera without makeup on her face. With time, she has learned to embrace her natural beauty and got used to the idea of going makeup free in the public arena. In this photo, she can be seen smiling while rocking an olive green shirt and a colorful hairdo. She pulled her hair in a bun. She is simply beautiful with or without makeup.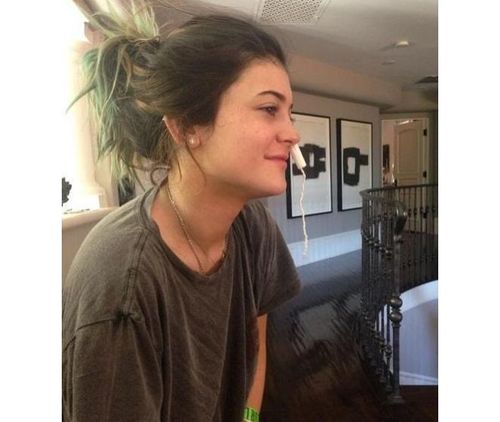 4.  A bare-faced selfie of Kylie
This stunning no-makeup picture of Kylie is proof that she doesn't need makeup to look pretty cause she is already beautiful. This is one of the most popular no-makeup snaps of the beauty influencer. Once she got comfortable in her own skin, she began flaunting her freckles and then, there was no turning back. In recent years, she has shared many bare-faced selfies of herself on the social media platform Instagram. In this sans makeup picture, she can be seen lying in her bed. Her eyes look really beautiful in this picture.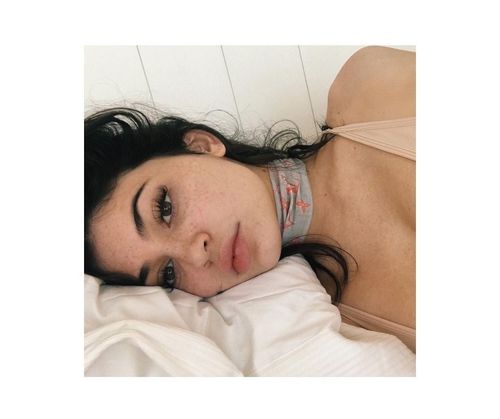 5. Kylie's mirror selfie
You can scroll through the Instagram feed of Kylie to see some recent no-makeup selfies of the selfie queen. In this no-makeup picture, the Deal With It star can be spotted slaying in a white stop and a pair of grey sweatpants. Back in the day, she stated that taking the perfect selfie is not a piece of cake.
In the season premiere of the show Life of Kylie, the social media queen said, "Posting a selfie is hard because there's a lot of pressure. It just has to be perfect. I check the comments, like, right when I post. If they're like, 'what the f**k is this Kylie?' then I delete that s**t super fast and reevaluate my decision."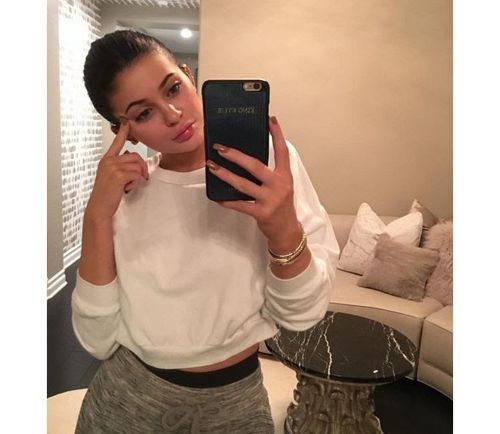 6. Boss woman
Being a successful businesswoman, and a popular reality TV star takes a lot of hard work. Here's another no-makeup picture of Kylie looking absolutely flawless. It's not easy handling a multi-million empire but she does it like a pro. Now, the good part is that she can work from her home in her comfy clothes. In this snap, she can be seen without a sprinkle of makeup on her face. This beautiful shot of Jenner was taken before she started her daily skincare routine. The photo showed her wearing a white robe.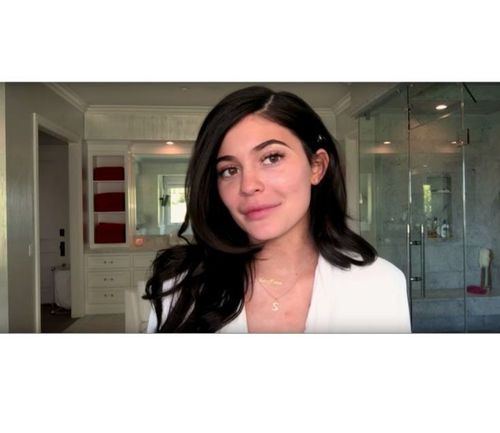 7. Happy mama, happy baby
Kylie frequently shares photos of herself and her daughter Stormi Webster on social media. Despite all the limelight on her 24/7, she managed to keep her first pregnancy under the wraps. She gives her fans a closer look at her personal life. Now, Kylie's daughter Stormi is 5 years old.
Jenner is a proud mom of two kids, a daughter named Stormi, and a son whose name is Aire. She welcomed both of her kids with musician Travis Scott. She gave birth to her son Aire on February 2, 2022. He turned 1 this year. She posted a beautiful video on the occasion of her son's birthday. She captioned the video, "AIRE. my son, my moon, my stars. best year of my life with you. you complete us my angel. mommy loves you. happy 1st birthday. may God always bless you."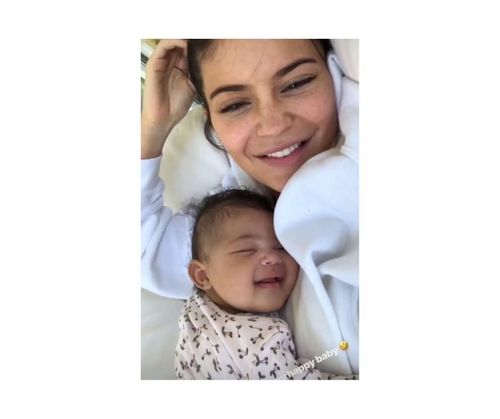 8. F for freckled beauty
This is a sans-makeup picture of Kylie from a few years ago. In the snap, The Kardashians star can be seen flaunting her freckles. She is a beauty with or without makeup. She styled her hair in braids. She can be seen rocking a makeup-free look in an oversized yellow sweatshirt. This snap of Jenner is one of the very first without makeup pictures that she shared on her social media.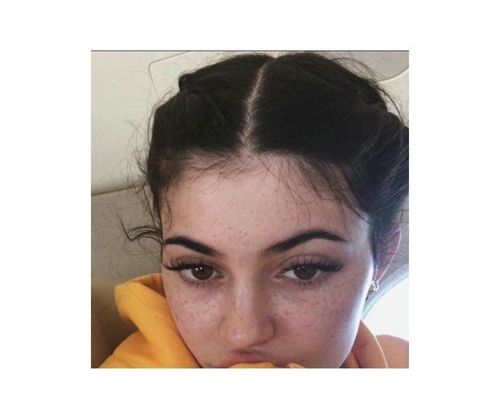 9. Sunkissed selfie
By now, Kylie has mastered the art of taking perfect selfies. She knows what is the best angle to capture a good selfie. In this no-makeup selfie, the Ocean's 8 star can be seen posing with her hand as the sunlight falls on her face. The sun added a beautiful touch to the sans makeup picture of the reality TV star.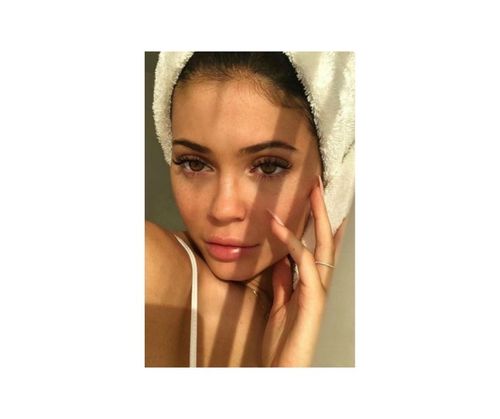 10. Tired selfie
How can someone look so good while being exhausted? Many no-makeup looks of the social media star have gone viral in the blink of an eye. A large majority of social media users were mesmerized by her natural looks as they had mainly seen her on the screen in full glam looks.
This sans-makeup picture of Jenner is evidence that she is gorgeous with or without makeup. In the snap, she can be seen sporting a baggy green hoodie. It seems like she was tired when she took the selfie but she still looks lovely.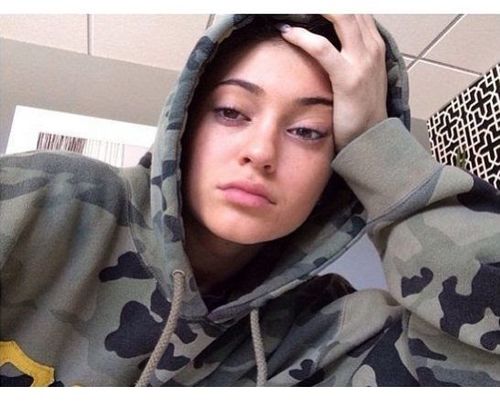 Which is your favorite no-makeup look of the reality TV beauty Kylie Jenner? Kindly let us know your thoughts on the same in the comments section below. Don't forget to stay tuned with us for the latest updates from the world of fashion and beauty.