Being a public figure ain't an easy thing as you are expected to look good 24/7. In the past, many top celebs including Cameron Diaz, Courteney Cox, Kim Kardashian, and Khloe Kardashian have talked about undergoing plastic surgery to improve their physical appearance. Many stars have used fillers, anti-aging injectables as well as botox to get that youthful skin. A few have even regretted their decision to undergo the knife to enhance their beauty.
When we talk about Courteney Cox, she is a Hollywood actress well known for playing the role of Monica Geller in the hit show Friends. In addition to this, she is also a producer and director. She has been in the entertainment business for more than 3 decades now. Over the last couple of years, the Ace Ventura: Pet Detective star has openly talked about going overboard with injections and fillers. Continue reading further to catch a glimpse of Courteney Cox before the fillers and after them.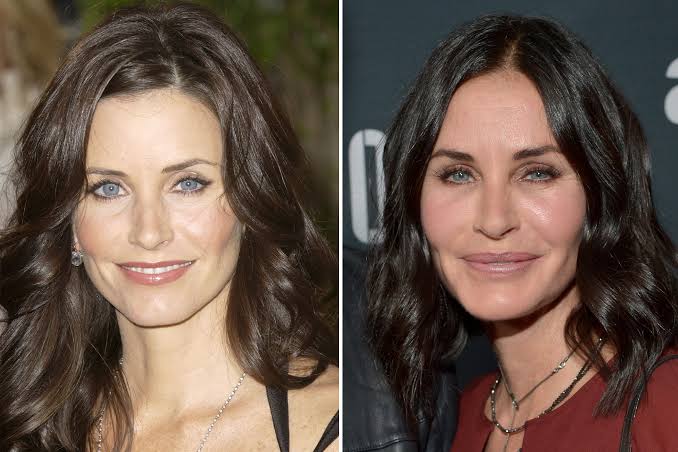 Take a look at Courteney Cox's transformation over the years
In the past, Courteney Cox, the heartthrob of the 1990s has admitted to have undergone plastic surgeries to make sure she kept looking young. She has confessed that she has got fillers and botox injections in her face. Although like many others, she has also regretted her decision to undergo the knife out of desperation. 
1984
In the year 1984, Cox made her big debut in Bruce Springsteen's "Dancing in the Dark." She had a cameo appearance in the music video of the song. If you will take a closer look at the music video of the song, you will find out that the young woman pulled onstage at the St. Paul Civic Center to dance with Springsteen is none other than Courteney. At that time, she was a young lady in her early twenties who was new to the Hollywood scene. In the snap shared below, the Hollywood star's pure and youthful appearance can be seen clearly.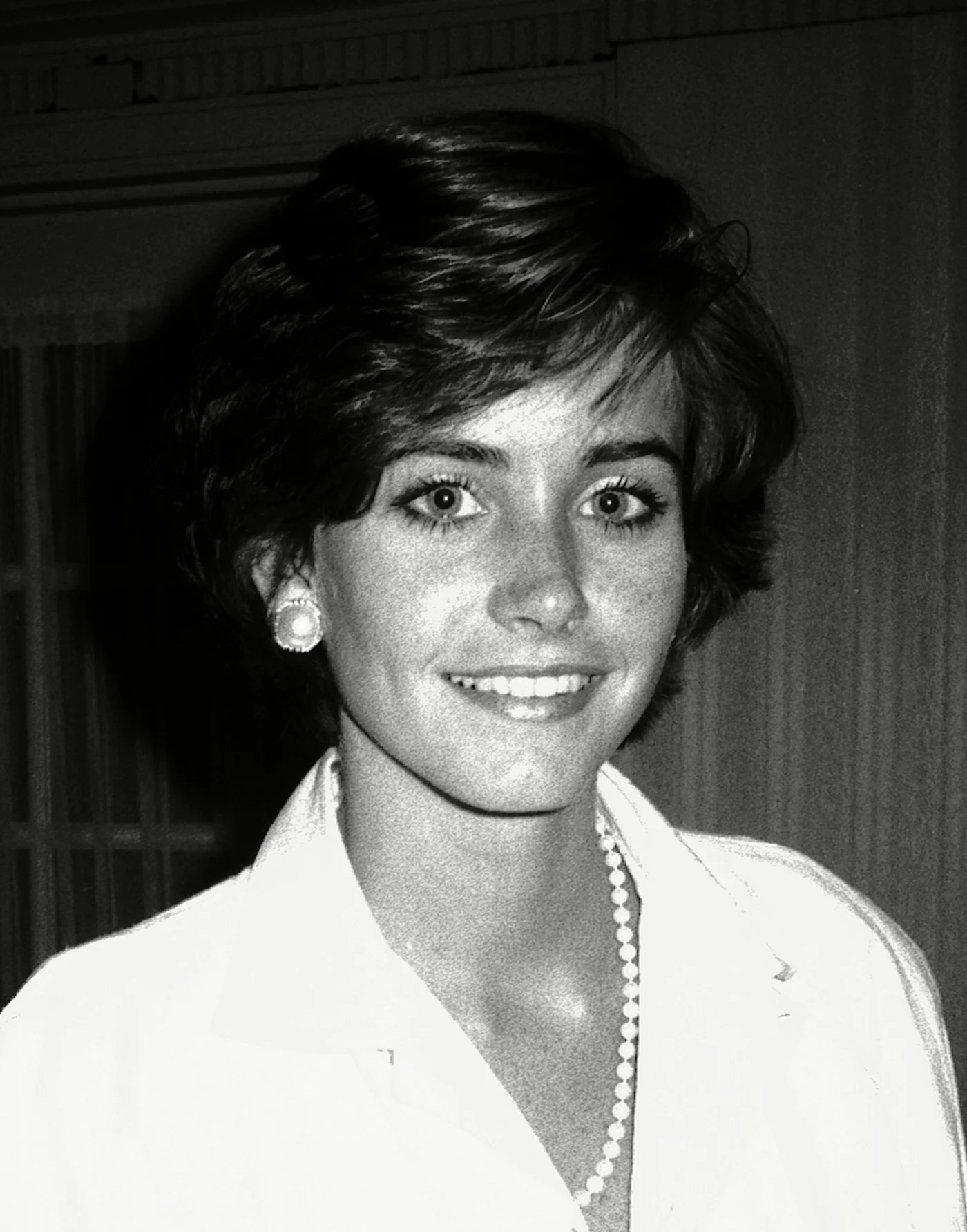 1985
For those of you who are unaware, let us share with you, Courteney was the first person to say the word 'period' in a TV commercial. At that time, she bagged an advertisement for Tampax Tampons in her kitty. This phase was the beginning of her journey to becoming an accomplished actress. During the same year, Cox essayed the character of Gloria Dinallo in the short-lived NBC science-fiction fantasy series Misfits of Science.
1987
Courteney shot to fame after her iconic appearance in the tampon commercial. Soon after, she was cast in the films such as 'Masters of the Universe' and 'Cocoon: The Return this year.'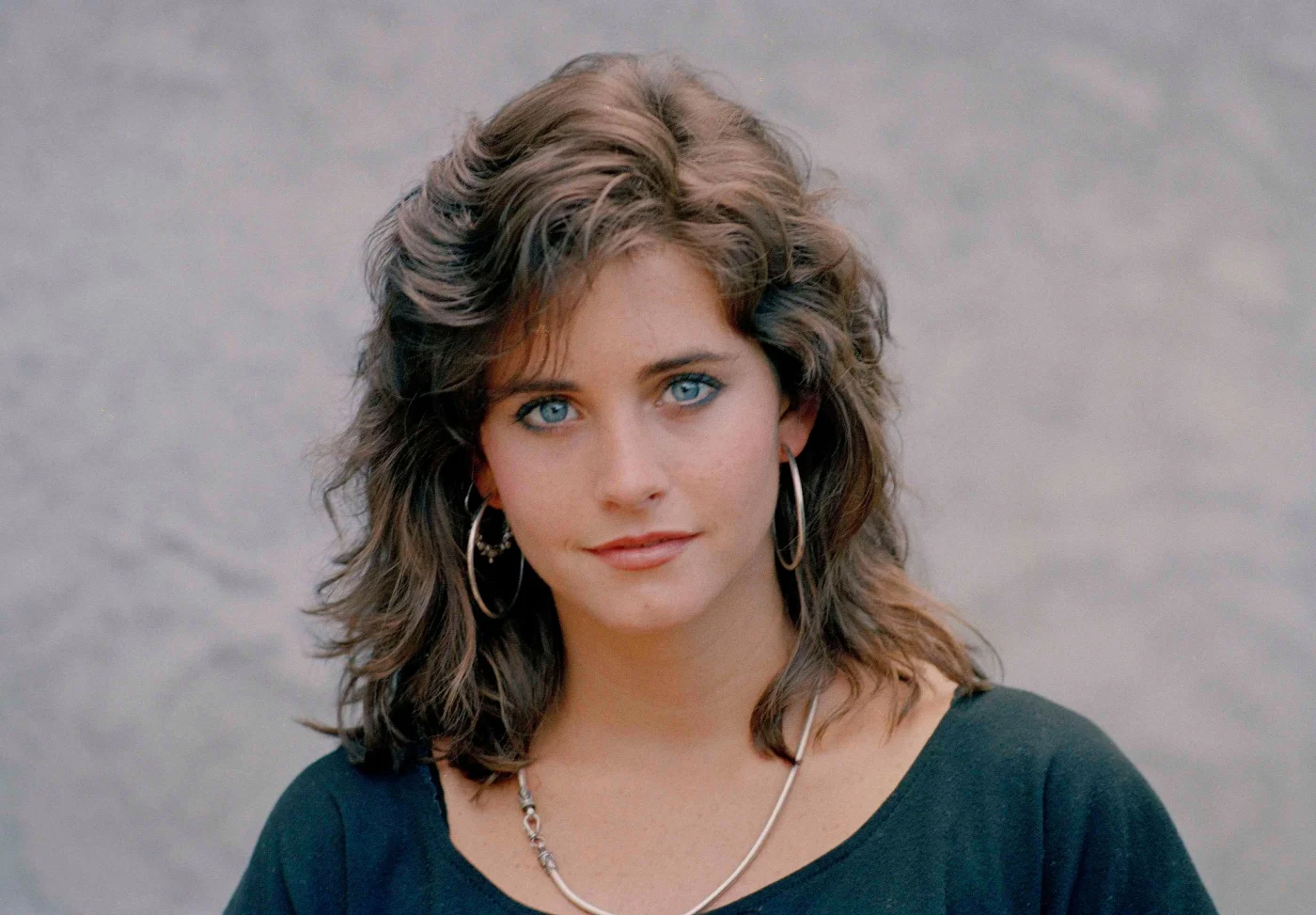 1989
During her early years, Cox rocked a more natural auburn shade and embraced her natural beauty. Then, she secured a recurring role in the TV series Family Ties.
1992
In 1992, Courteney's acting career was skyrocketing, when she appeared in films like The Opposite Sex and How to Live with Them. She stunned the audience with her fascinating and enticing charm.
1994
It wouldn't be wrong to say that 1994 was a good year for Cox and all of us as we got to meet Monica Geller, the perfect combination of hotness, beauty, and perfection.
1996
In 1996, Courteney gained wider attention after starring in the horror film Scream.
1998
Happy in love! Back in the day, Cox and David were one of the cutest couples in Hollywood. The two of them tied the knot in the year 1999 and they got divorced in 2013.
2000
Courteney continued to wow the audience with her amazing performances.
2003
Cox stole the hearts of the fans at the 60th Golden Globes Awards.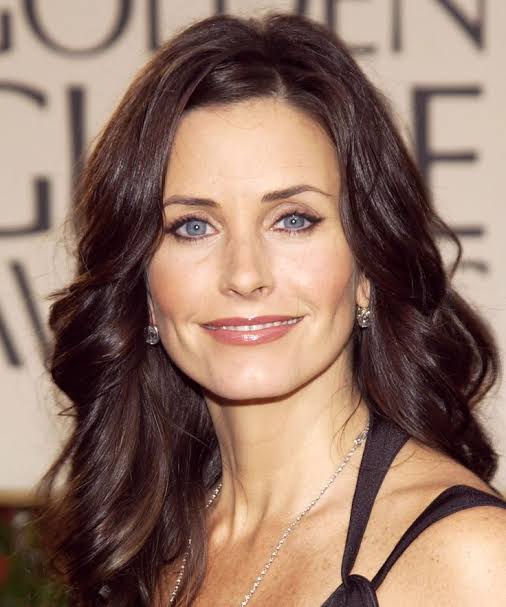 2006
Courteney looked gorgeous in a black gown at the FX 'Dirt' Los Angeles premiere.
2008
Cox stepped out for the 'Bedtime Stories' premiere in 2008.
2010
Courteney is spotted with a lovely smile on her face smile at the Golden Globes event. She looked absolutely stunning at the awards show. At that time, she was 45 years old.
2012
Cox is snapped by the paps while out and about with her daughter Coco. For the day out, she opted for a black dress and a pair of matching sandals. She topped off her look with a black bag. On the other hand, her daughter can be seen dolled up in a blue top styled with a pair of blue jeans and boots.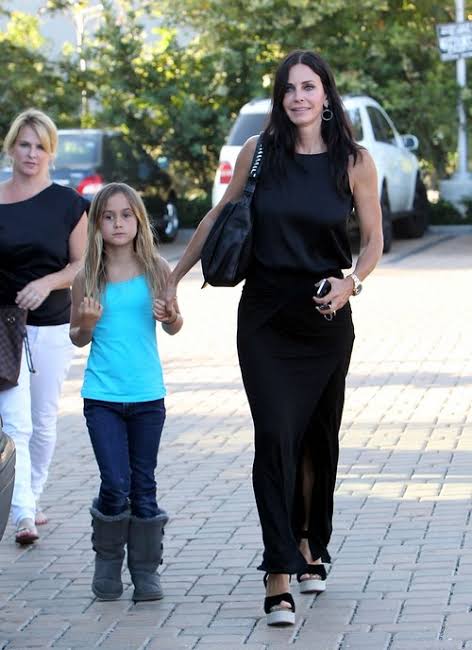 2014
Even at the age of 50, Cox exudes her elegant and everlasting beauty to the world.
2016
The Family Ties star continued to create magic on the silver screen with her great skills. The actress first spoke about plastic surgery during a 2016 episode of Running Wild With Bear Grylls. At that time, she told the host Bear Grylls, "I think there's a pressure to maintain [your looks], not just because of fame, but just, you know, being a woman in this business. Getting older has not been … I don't think it's the easiest thing."
Cox went on to say, "I think I was trying to keep up with getting older, trying to chase that … it's something you can't keep up with." In that particular episode of Running Wild With Bear Grylls, the viewers got to see Courteney and the survivalist traveling through the Irish Highlands where she shared more about procedures she had done on her face.
The Golden Globe nominee added, "I have done things that I regret, and luckily they're things that dissolve and go away. So, um, that's good, because it's not always been my best look."
2017
During a 2017 interview with NewBeauty, Cox spilled the beans on Hollywood's obsession with staying young and how it led her to make poor choices with her own looks. At that time, she said, "I grew up thinking that appearance was the most important thing. That's kind of sad because it got me in trouble. I was trying so hard to keep up, and I actually made things worse." She also stated that the doctors would often pressure her to nip and tuck here and there.
The Cougar Town star added, "Well, what would end up happening is that you go to a doctor who would say, 'You look great, but what would help is a little injection here or filler there.' So you walk out and you don't look so bad and you think, no one noticed — it's good. Then somebody tells you about another doctor: 'This person's amazing. They do this person who looks so natural.' You meet them and they say, 'You should just do this."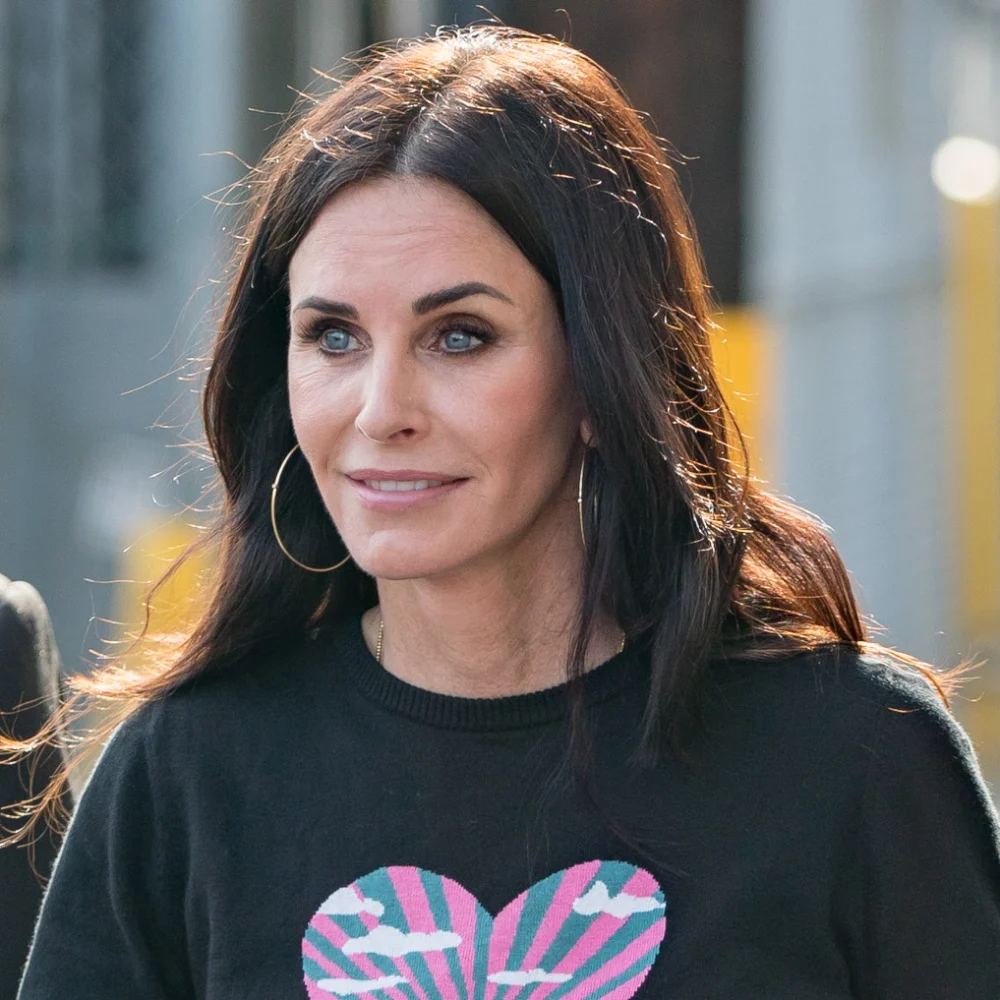 With so many different outside opinions, the Hollywood actress no longer looked like herself. She continued, "The next thing you know, you're layered and layered and layered. You have no idea because it's gradual until you go, 'Oh s–t, this doesn't look right.' And it's worse in pictures than in real life. I have one friend who was like, 'Whoa, no more!' I thought, I haven't done anything in six months. I didn't realize."
Courteney's other pals told her something else, they assured her that she looked good but ultimately she had enough. She added, "I've had all my fillers dissolved. I'm as natural as I can be. I feel better because I look like myself. I think that I now look more like the person that I was. I hope I do. Things are going to change. Everything's going to drop. I was trying to make it not drop, but that made me look fake. You need movement in your face, especially if you have thin skin like I do. Those aren't wrinkles — they're smile lines. I've had to learn to embrace movement and realize that fillers are not my friend."
2019
During an interview with People magazine, the 54-year-old actress spoke about her decision to remove her fillers two years ago. She told the media outlet, "You have to accept getting older, and that's something that I had a hard time doing."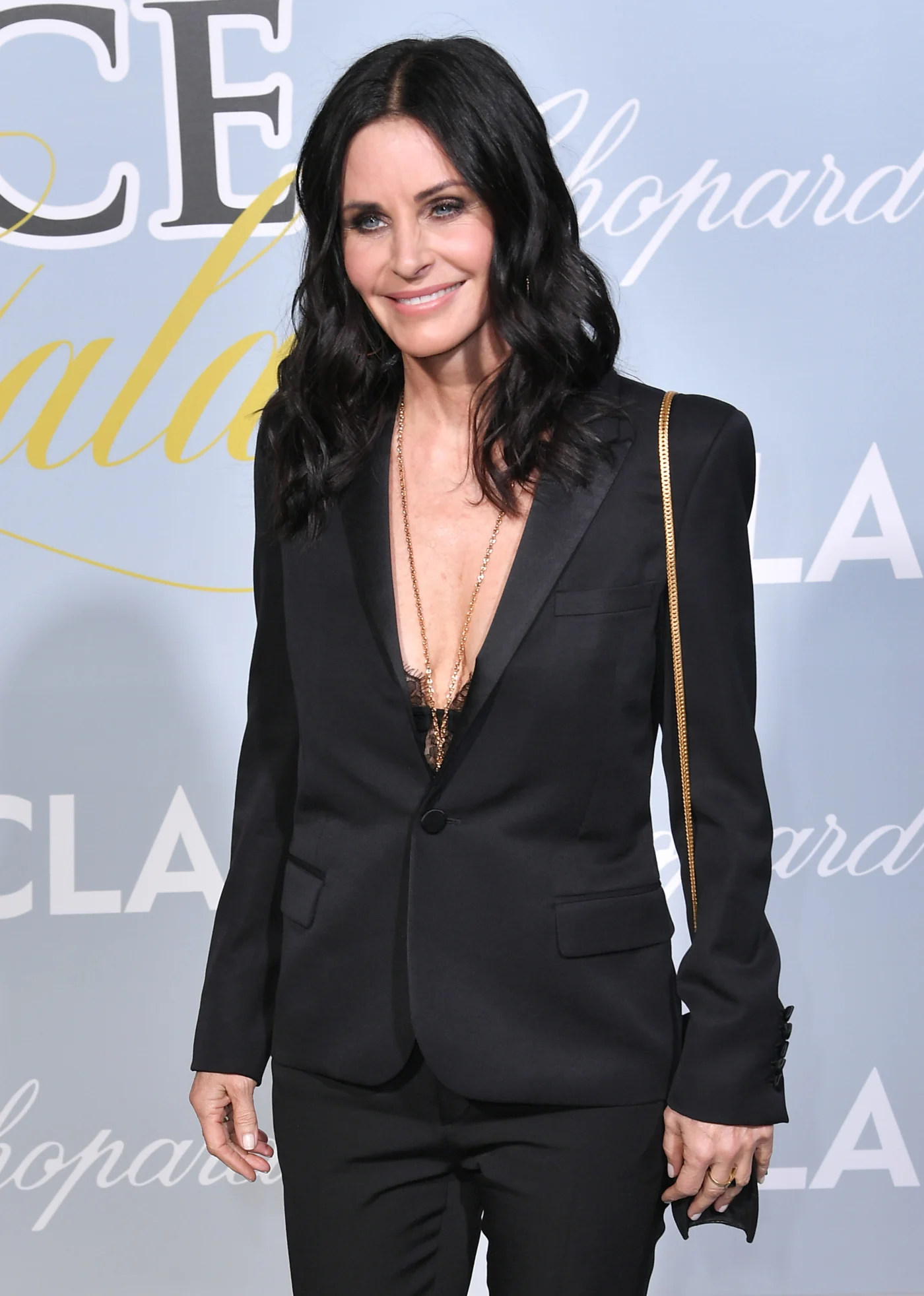 2021
In the year 2021, The Love Boat star shared a sans makeup picture of herself with her beau Johnny McDaid after celebrating their eighth anniversary in September. The photo showed her cuddling up to her boyfriend Johnny.
2023
While making an appearance in the recent episode of the 'Gloss Angeles' podcast, the Friends star chatted with the hosts Kirbie Johnson and Sarah Tan Christensen about her past use (and overuse) of anti-aging injectables. She even described it as her biggest beauty regret.
Courteney told the hosts of the show, "It's a domino effect. You don't realize that you look a little off, so then you keep doing more, 'cause you look normal to yourself." She recalled, "You look in the mirror and go, 'Oh, that looks good' … You don't realize what it looks like to the outside person." After "doing too many fillers," she "[had] to have them removed."
The Scream star went on to say, "Thank God they are removable. I messed up a lot and now luckily … I was able to reverse most of that." She also mentioned that over the years, her overall perspective on aging has changed a lot. She concluded, "Thinking I was getting older when I was really young, that's just a bummer, a waste of time."
What is your take on beauty standards? Kindly let us know your opinion in the comments section below. Don't forget to check this space for more info about fashion, beauty, and more.