Gwen Stefani needs no introduction. She is one of the most well-known American singers and songwriters. In addition to this, she has also stepped into the cosmetics industry and owns a beauty brand that goes by the name of GXVE Beauty. She founded her beauty line in the year 2022.
The Sweet Escape hitmaker is rarely snapped by the paps without her signature bold red lip and winged eyeliner. Although that doesn't mean that she is scared of stepping out in public without any makeup on her face. Since meeting her musician hubby Blake Shelton, she has been embracing her natural beauty a lot more. She is flawless with or without makeup.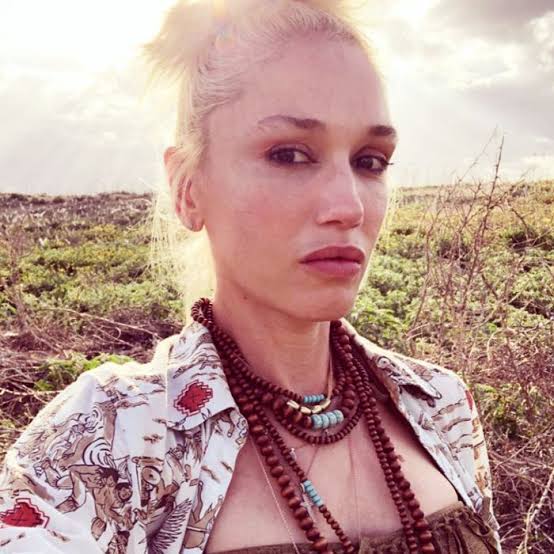 For most of Gwen's life, makeup has been a big part of her life. During a 2017 interview with Vice, she disclosed that her children find it weird when she's without makeup. At that time, The Voice alum said, "[Makeup] says a lot, I think. Even my kids are so used to me wearing makeup that if I don't, they'll be like, 'Wait, are you gonna put on makeup?' I'm like, 'Of course, I'm going to.' It's just who I am. Always have been. So, it's kind of perfect to be doing it in this way. And it's inspiring, too."
On the other hand, when we put some light on the GXVE Beauty founder's love for beauty and fashion, she has come forward and defended herself on being asked why she is never photographed without makeup. Before the launch of her beauty brand GXVE Beauty, she spoke with Refinery29 in March 2022 and said, "I would always get a lot of s–t for [wearing makeup]. People would say, 'You're wearing a mask, what are you trying to hide?' No, I just love makeup. I just think I look better when I have it on."
Despite everything, the three-time Grammy winner is well aware of how to take care of her skin. After a long day at work in front of the flashing cameras, she lets her skin breathe by going sans makeup. Continue reading further to catch a glimpse of Gwen Stefani's no-makeup looks.
Take a Look at Gwen Stefani's without Makeup
Here are some No Make looks of Gwen Stefani;
1. A good morning selfie
Some celebs are unrecognizable without makeup on, except this powerhouse singer. This no-makeup selfie was shared by the musician on the social media platform Instagram in December 2015. The picture was taken by Gwen while lying on what appears to be a white pillow donning a black tank top, a camouflage-print baseball cap, and black glasses. "#goodmorning gx," she wrote in the caption of the post.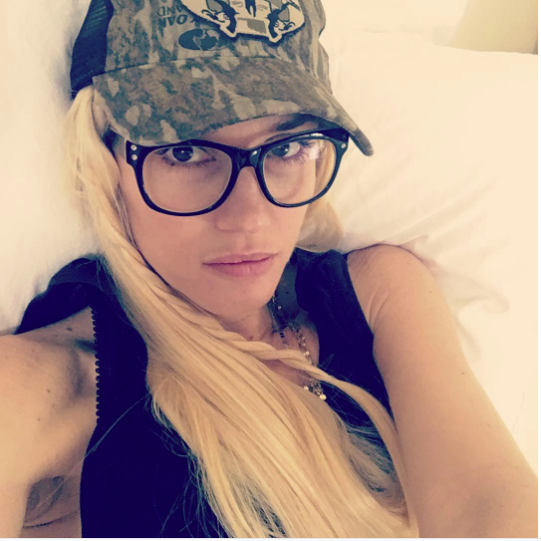 2. A makeup-free selfie
We all have to agree that, Gwen is looking stunning in this picture. She has no hint of a beauty product on her face in the breezy photo. The snap showed the blonde beauty's platinum locks brushing her face. She looks fine when she goes out all natural.
3. A good night picture
If you are excited to look forward to some amazing sans makeup pictures of the Hollaback Girl singer, then this is one of the best that you will come across. This picture shows the real face of Gwen without any eyeliner or lipstick. In the snap captured at her home, she can be seen flaunting her natural cheekbones.
4. Gwen Stefani opts for a no-makeup look for the beach day
In the year 2017, the co-founder and the lead vocalist of the band No Doubt was photographed by the paps while out and about on a vacation. At that time, she showed off her toned figure at Newport Beach, California. For the beach day, she looked gorgeous in a bikini and a pair of blue shorts. Along with this, she also had a blue t-shirt wrapped around her waist. She topped off her look with a couple of jewelry pieces like a pair of earrings, some neck chains, and a few bracelets. She went sans makeup for the outing.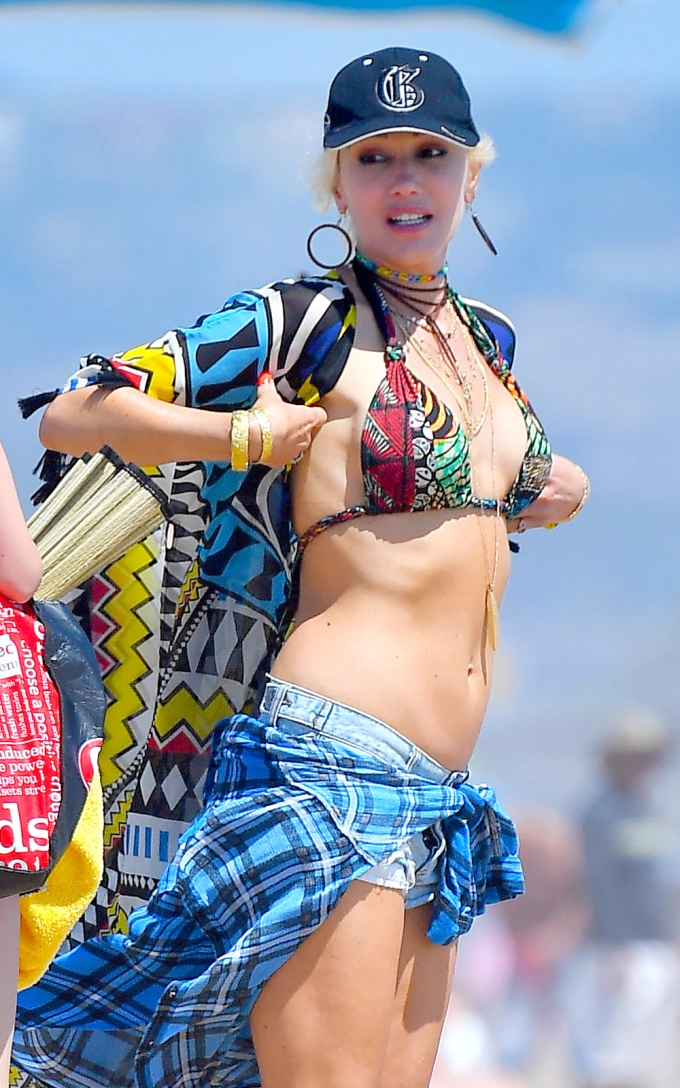 5. Gwen Stefani slays in a black dress

                     
Back in the day, when Gwen Stefani was expecting a baby with her now ex-husband Gavin Rossdale, she was spotted in public with no makeup on her face. Then, she was seen in North London with her then-husband Gavin and the pair's son Kingston. For the outing, the singer wore a comfy black dress which she paired with black slippers and black sunglasses.
6. Outing in style
The Simple Kind of Life singer looked perfect when she was snapped showing off her natural beauty while taking a stroll in North London in the year 2008. She donned a floral dress and put her blonde locks in loose curls as she went makeup free. She is a stunner with or without makeup.
7. Capital F for flawless
Let's say if the world of makeup vanished in the air, it wouldn't make much of a difference in the life of the singer as she is beautiful just the way she is. Her bare face is as stunning as her all-glammed-up face. In this bright picture, she looks spectacular.
8. Gwen Stefani goes makeup free for an outing with her husband Blake Shelton
We must say, the letter G in Gwen Stefani's name stands for Gorgeous. She looked ravishing the day she posted a loved-up selfie of herself and her husband Blake Shelton on the social networking platform Instagram. In the snap, her face has an alluring glow without a trace of makeup on it.
9. A fresh-faced selfie
Here we have a lovely no makeup picture of the It's My Life crooner. In the snap, she can be seen sporting her million-dollar smile with barely any makeup on her face.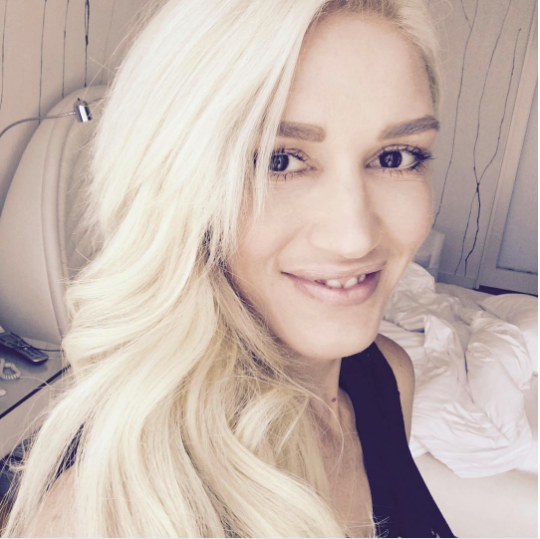 10. A natural beauty
Seen here is Stefani's sans makeup look with a multi-colored sunset jacket with camouflage cargo pants. At that time, she was spotted in Los Angeles. The blonde babe went almost bare-faced for the day out.
Which out of the above 10 no-makeup looks is your favorite? Kindly let us know in the comments section below. Don't forget to stay tuned with us for more updates about stunning beauties from Hollywood.