Hailey Rhode Bieber is one of the most popular models on the planet. She is the daughter of the Hollywood actor Stephen Baldwin and his graphic designer wife Kennya Deodato Baldwin. Over the years, she has been featured in numerous advertisements for top brands such as Tommy Hilfiger, Ralph Lauren, and Guess.
Apart from being a model, Hailey has also been in limelight due to her personal life. For those of you who are unaware, let us share with you, she is married to the Love Yourself singer Justin Bieber. The pair tied the knot in the year 2018. Many people thought their marriage wouldn't last but they have been happily married for almost 5 years now.
At the moment, the blonde beauty has more than 50 million followers on the social media platform Instagram. Her fans look forward to her for fashion tips, as well as skincare routines. Last year, she launched her beauty line that goes by the name of Rhode Beauty.
As per the official website of the beauty brand, Hailey said, "My journey towards healthier skin inspired me to develop products that really work, in a way that's accessible to everyone. Rhode is dedicated to making products based in science and great formulation, simplifying many of the mysteries and complex narratives behind efficacious skincare. I hope these will become your go-to essentials that can live in your bathroom, be your favorite travel companion, improve your skin over time, and keep your skin happy and hydrated."
In the last few years, we have seen more models embracing their natural beauty and true self, which is great. At the end of the day, they also want their skin to breathe after a long day at work. So without any further ado, here are all the bare-faced selfies Hailey Bieber has treated us to.
Scroll down to see Hailey Bieber's no-makeup looks
1. A bare-faced picture
This picture shows Hailey posing for the camera in a black ensemble. In the no-makeup photo, the Rhode Beauty founder can be seen looking flawless in an oversized grey shirt atop a black crop top. She accessorized her look with a 'Bieber' necklace and a black bucket hat. She uploaded two similar photos on her Instagram feed. 'Same Same,' she wrote in the caption of the Instagram post.
2. Your skin glows when you are happy
Yeah, you read that right. When you are feeling happy, and relaxed, your skin instinctively follows suit by emanating a glow. You can simply call it a happiness glow. Hormones like Oxytocin, dopamine, and serotonin have positive effects on your skin. In the picture shared, Hailey and her husband Justin can be seen smiling while clicked by the paps. She doesn't have a tad bit of makeup on her face. Justin's love brought a natural glow to his wife Hailey's face.
3. Get ready for a vacation picture
They say, 'Travel is like food for the soul.' Due to her modeling career, Hailey travels all over the world. Every now and then, she documents her trips on Instagram. In this vacation snap, the model can be spotted having the time of her life. The photo shows her enjoying a makeup-free swimming session.
4. Sunlit selfies
In July 2022, Bieber shared a sun-kissed selfie of herself and it seemed like the picture was unfiltered. In the sunlit picture, she can be seen basking in the sunshine and looking gorgeous as ever without any makeup on her face.
5. Day out
This paparazzi picture of Hailey shows her somewhat lost in her own world of thoughts. In the sans makeup photograph, she can be seen sporting a grey crop top and matching pants. When the paps took her picture, she was walking towards her car while in a contemplative mood.
6. A no-makeup selfie of the model from a trip
Back in the day, the social media star posted a carousel of pictures of herself and her husband Justin from another vacation. She didn't reveal the place the couple went to. The slideshow of pictures consisted of a stunning no-makeup picture of Hailey. She simply captioned the series of snaps, "adventure trip."
The first picture shared by Hailey was a cool selfie of her with a pout and messy hair. At that time, a social media user even complimented Hailey and her skin. The user left a sweet comment on her post that read, "How naturally fresh and gorgeous are you dewy dumpling 😘".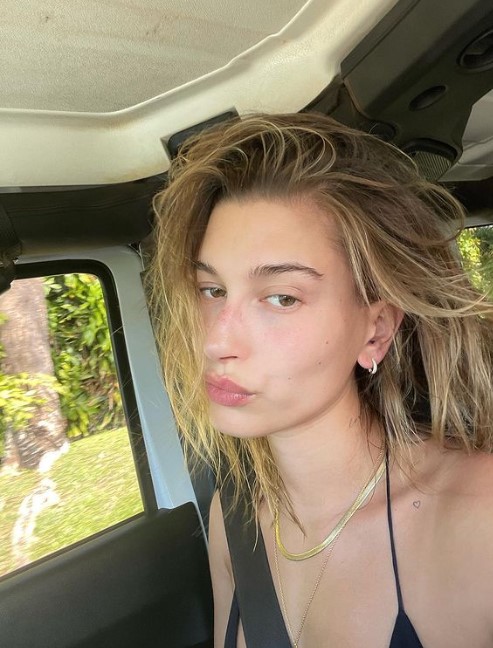 7. Enjoying the beautiful views
Being a supermodel, Hailey has busy schedules. On the other hand, when we talk about her husband Justin, he also has hectic schedules. The couple tries their best to sneak in some time to get away from the world of the spotlight and enjoy some quality time together. "heart = full," she wrote alongside some vacation photos of the pair. The series of pictures consisted of many fresh and no-makeup selfies of the model, a few happy photos of the couple, and the scenery around them.
8. Smiles are always in fashion
In recent times, we have witnessed Justin Bieber gushing over his ladylove Hailey Bieber on social media. Not long ago, he shared a bunch of pictures of the couple together on his Instagram feed. He simply captioned the snaps, 'Baby l Love You." In one of the snaps, the pair can be seen holding hands and beaming with happiness like a new couple. Hailey accompanied her husband on tour and chose not to wear any makeup.
9. A random fresh-faced picture
Justin posted a beautiful no-makeup picture of his model wife Hailey on social media. In the snap, she can be seen donning a pink top, a chain around her neck, black glasses, and a pair of earrings. When it comes to her hair, she pulled them back in a low ponytail.
10. Put on a face mask
Stayed up last night watching Netflix? Put on a face mask and make a skincare routine for yourself. Hailey shared a 'Saturday' picture in which she can be seen wearing a robe while her face mask and eye patches are on. It seems like she has a cup of hot beverage in her hand.
Do you like the products of Hailey Bieber's beauty line Rhode Beauty? Kindly let us know your thoughts on it in the comments section below. Don't forget to stay tuned with us for updates about beauty, fashion, and more.